Our Gifts to the Globe: How UWC Alumni Are Changing Our World
20 December 2018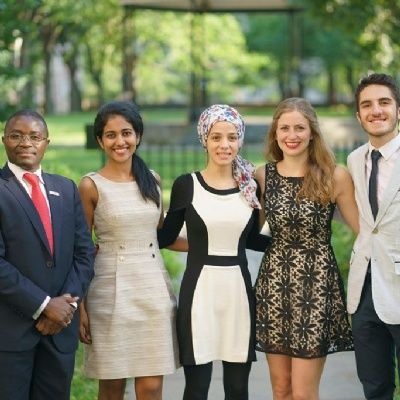 It is better to give than to receive.
Behind this well-known saying is a sentiment that many in the UWC community would support. UWC students receive an amazing, life-changing gift when they study at one of our 17 schools. But more importantly, they come away inspired to give back by striving to make our world a better place.
Here are just a few of the incredible gifts UWC alumni are giving to our world through their work and influence...

Educating Refugees
The UN estimates that there are 25.4 million refugees worldwide, representing one of the greatest humanitarian crises of our time. What's more, over 50% of them are under 18 and do not have consistent access to education.
UWC has long worked to provide access to learning for displaced young people, but two UWC alums were keen to ensure that this work reached even further. So, in 2017, Polly Akhurst (UWC Atlantic College, 2004-2006) and Mia Eskelund Pedersen (UWC Mahindra College, 2005-2007) co-founded Sky School.
The Sky School curriculum was developed in collaboration with UWC South East Asia, one of the largest international schools in the world. It offers blended courses, with some of the curriculum delivered online, and some face-to-face through local partner organisations. To date, Sky School have educated over 100 young refugees across five countries.
Saving Lives at Sea
Drowning claims almost two-thirds as many lives as malnutrition and is a growing problem.
Atlantic Pacific's vision is of a world where no one drowns. They're working towards it by providing lifeboats in areas where there are none.
Robin Jenkins (UWC Atlantic College, 1990-1992) was inspired by his time at UWC Atlantic College to found Atlantic Pacific. Since then the team, which includes current UWC Atlantic College students, have run projects in areas most vulnerable to disaster, including Greece, Libya and Japan.
Bringing Medical Supplies
"With a leap of faith, we can all be the change our world screams for." So says Umra Omar (Kenya, UWC Atlantic College, 2000-2002).
That's why she founded Safari Doctors to offer free basic medical services where there are almost none. Based in Kenya, the team sail around the area in a boat loaded with medicines and conduct mobile clinics in different villages.
Nominated as the UN in Kenya Person of the Year 2017, Umra and the Safari Doctors are changing hundreds of lives every month.
UWC students, staff and alumni change the world every day. If you're inspired to help build a better future, why not consider joining the UWC community yourself?